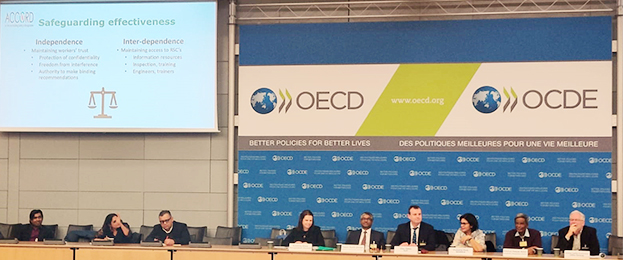 Paris OECD session focuses on RMG Sustainability Council
A session on RMG Sustainability Council (RSC) was held at the OECD in Paris. The discussion centered around the developments in the Bangladesh apparel sector and the RMG Sustainability Council (RSC) recently agreed upon by industry, trade unions and international brands.
Dr. Rubana Huq, President, BGMEA; Dan Rees, Director, Better Work Programme, ILO; Kristine Drew, Bangladesh Accord Foundation; Tapan Kanti Ghosh, Chairman, Bangladesh Trade and Tariff Commission; and Amirul Haque Amin, President, National Garment Workers Federation took part in the discussion.
BGMEA President Dr. Rubana Huq highlighted the developments of Bangladesh RMG industry, especially in the areas of workers' rights, workplace safety and environmental sustainability.
She informed the session the RSC would act as a national initiative involving industry, brands and trade unions to ensure a sustainable solution to carrying forward the significant accomplishments made on workplace safety in Bangladesh.
EU- OECD roundtable on responsible purchasing practices in Bangladesh
An EU- OECD roundtable was also held in Paris yesterday to discuss how to advance responsible purchasing practices in Bangladesh.
The roundtable aimed to further drive towards responsible purchasing practices in the garment and footwear supply chain in Bangladesh. At the roundtable, purchasing practices of the brands were discussed. Further discussion was on devising ways to standardize purchasing practices globally.
Tyler Gillard Head of Sector Projects and Legal Adviser in the Responsible Business Conduct Unit of the OECD's Investment Division chaired the discussion while opening remark was made by Madelaine TUININGA, Head of unit, DG Trade - European Commission.
Co-speakers at the event were Dr. Rubana Huq, President, BGMEA; Aruna Kashyap, Senior Counsel, Women's Rights Division, Human Rights Watch; Cristina Hajagos-Clausen, Textile & Garment Industry Director, IndustriALL Global Union; and Sarah Negro, Stakeholder engagement, H&M.
Video
Photo
Social Media
Keep yourself informed with up to the minute news, events and opinions via our Social Media channels.
Latest news