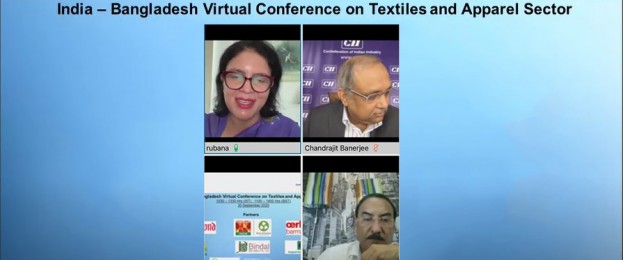 Regional cooperation stressed to boost textiles and apparel sector in Bangladesh – India
Bangladesh and India have underscored the need for regional cooperation for boosting the textiles and apparel sector in both countries and manufacturing for the world, facilitating mutual investments, building value chains and, creating a robust ecosystem for the new normal.
The emphasis was laid in at the 'India-Bangladesh Virtual Conference on Textiles and Apparel Sector' jointly organised by Confederation of Indian Industry (CII) and Federation of Bangladesh Chambers of Commerce and Industry (FBCCI) on 30 September.
Golam Dastagir Gazi (Birpatik), Honorable Minister, Ministry of Textiles and Jute, Government of Bangladesh, and Smriti Zubin Irani, Honorable Minister, Ministry of Textiles, and Ministry of Women & Child Development, Government of India attended the conference.
Business leaders from Bangladesh and India took part in the virtual meet and made their observations on how both countries can leverage mutual synergies to harness the untapped potential in textiles and apparel Sector.
Bangladesh's Textiles and Jute Minister Golam Dastagir Gazi pointed out that there was a huge potential for further collaboration between Bangladesh and India in the textile and apparel industry, with opportunities for both countries.
He said that barriers to trade in the textile trade of the two countries will be resolved through mutual discussion.
Indian Textiles Minister Smriti Irani has asked Bangladesh to increase its textile sourcing from India.
She further stated that measures are underway to address the logistics challenges in order to reduce the turn-around-time for movement of cargo between the two countries, and inland waterways will also be leveraged for the same.
In her address BGMEA President Dr. Rubana Huq said that a regional collaborative integration would be of immense value to the entire region.
"This is not a time for competition, it is time for collaborative competition. So, the new world is actually 'coopetition'. If we follow that lead and collaborate, who can stop us from being the biggest brand for the whole world in terms of South Asia. We are actually positioned to become that brand," she said.
"If we could come together and create a regional value chain in terms of branding and manufacturing, that would be of immense impact for the entire industry."
Vice President of FBCCI Md. Siddiqur Rahman said India-Bangladesh relation has always been an example of bilateral relation and both countries share a common culture.
Bangladesh can import of raw materials including cotton and fabrics from India at a reduced lead-time and export to India, thus both countries can reap mutual benefits, he remarked.
Indian Textiles Secretary Ravi Capoor and BGMEA Vice President Md. Moshiul Azam (Shajal) also spoke at the conference which was moderated by Director General of the Confederation of Indian Industry (CII) Chandrajit Banerjee.
Video
Photo
Social Media
Keep yourself informed with up to the minute news, events and opinions via our Social Media channels.
Latest news