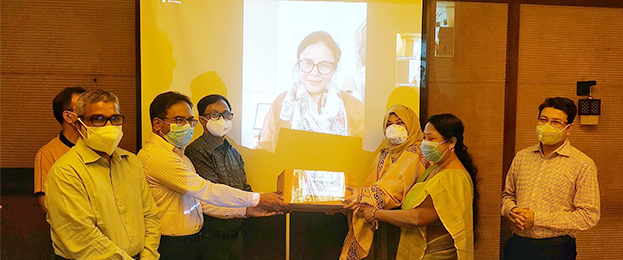 SNV Bangladesh donates medicines to BGMEA health centers
SNV Bangladesh donated medicines to the health centers run by Bangladesh Garment Manufacturers and Exporters Association (BGMEA) for garment workers.
The medicines were handed over to BGMEA at a program organized by SNV's Working with Women-II project in Dhaka on 6 September 2020.
BGMEA President Dr. Rubana Huq attended the program as chief guest.
On behalf of the health centers, BGMEA Director Nazrul Islam received the medicines from SNV Bangladesh, a Netherlands-based development organization.
Chairman of BGMEA Standing Committee on Health Center Md. Hanifur Rahman (Lotus), Chairman of BGMEA Standing Committee on SME Mohammed Sohel, Chairman of BGMEA Standing Committee on Floor Price and Cost Review Md. Abdul Jalil, Chairman of BGMEA Standing Committee on Market Development (Argentina/ Peru) Md. Jahander Rashid (Jewel) and Team Leader of RMG Inclusive Business Program-SNV Farhtheeba Rahat Khan were also present at the program.
BGMEA operates 12 health centers in Dhaka, Gazipur and Chattagram to provide medical treatment and medicines to garment workers at free of cost.
Video
Photo
Social Media
Keep yourself informed with up to the minute news, events and opinions via our Social Media channels.
Latest news