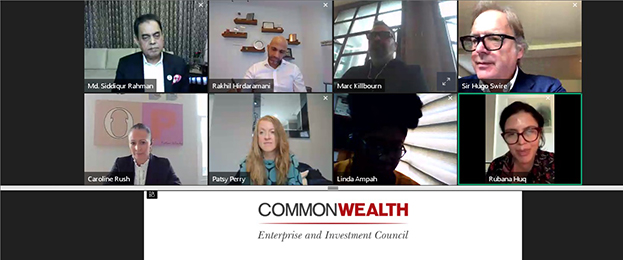 There is no alternative to responsible consumption and sourcing: Rubana Huq
There is no alternative to responsible consumption and also responsible sourcing, said Dr. Rubana Huq, President of Bangladesh Garment Manufactureres and Exporters Association (BGMEA).
The challenge is to strike a balance between sustainability and sourcing. We would urge all to come forward and explain customers along with retailers and high streets that the whole concept of responsible consumption and sourcing must be changed, she said while speaking at webinar organized by Commonwealth Enterprise and Investment Council (CWEIC) yesterday. The webinar aimed to discuss and examine the options available to support the textile and garment industry's recovery.
Md. Siddiqur Rahman, Vice President, FBCCI; Dr. Afua Asabea, Chief Executive Officer of GEPA; Hussain Afzal, CEO, Hussain Mills; Freed Degbe, CEO, Heel the World spoke at the webinar which was moderated by Sir Hugo Swire.
Dr. Rubana Huq said the COVID pandemic dealt a heavy blow to the RGM industry of Bangladesh with rampant cancellation orders from buyers. However, the Honorable Prime Minister of Bangladesh stepped in with policy support including stimulus package to protect the industry. "We are resilient community here in Bangladesh and we hope with the support of all our partners, we will be recovering fast," she remarked.
Video
Photo
Social Media
Keep yourself informed with up to the minute news, events and opinions via our Social Media channels.
Latest news